Honda Care
<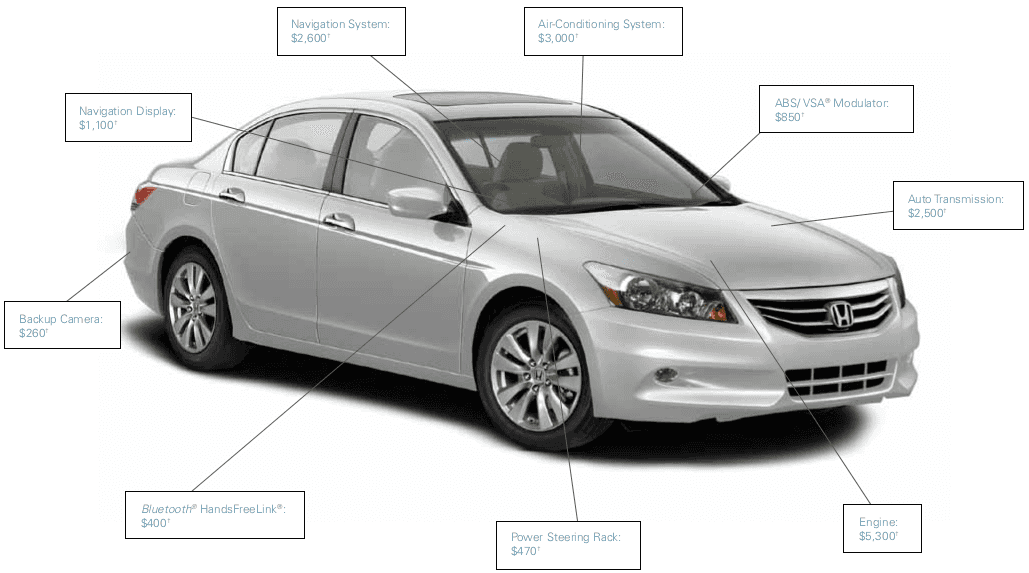 Vehicle service contracts
Vehicle Service Contracts (VSC) and GAP Program
Care that makes a difference. Get Honda Care® today.
No matter where you're headed, Honda Care can help you make the most of every mile. Honda Care provides a wide variety of coverage and services designed to look out for you and your vehicle, so you can enjoy the smoothest ride possible for many years to come.1
Choose from four levels of coverage:
New Vehicle Coverage
Pre-Owned Vehicle Coverage
Certified Additional Coverage
Powertrain Coverage (Pre-Owned Vehicles Only)
Component Coverage:2
New, Pre-Owned and Certified Additional Coverage:
Drivetrain: Engine, Transmission, Differential and Axles
Electronics: Computers, Electronic Components and Electrical System
Chassis: Suspension, Steering and Brake Systems
Heating/Cooling: Air Conditioning, Heating and Cooling Systems
Honda Genuine Accessories: Audio and Communication Devices and Accessories, Navigational and Security Systems
Powertrain Coverage:
Engine
Drive Axle (Front and Rear)
Transmission
Seals, Gaskets and Fluids
Repairs will be performed by factory-trained Honda technicians using Honda Genuine Parts.3
Benefits Include:
Rental Car Reimbursement: Up to $35/day for up to 6 days1
Commercial Coverage is available for new Honda vehicles4
Honda Care Coverage is transferable5
0% interest payment plan6
Roadside Assistance:1,7,8 Family Plan covers your Honda vehicle and your family's Honda and Acura passenger vehicles or Honda motorcycles as well9
Trip Interruption Benefit: Up to $100/day for up to 3 days1,7
24/7 Concierge Emergency Services1,7,10
For more details, click the PDFs under Brochures on the right side of this page or contact Honda Care at (800) 999-5901.
Get Honda Care Sentinel Oil Change Coverage
Whether you choose Honda Care Sentinel or Honda Care Sentinel 3/45TM, you'll receive a wide range of services that help make your drive go as smoothly as possible.
Honda Care Sentinel and Sentinel 3/45 Benefits:
Routine Oil Changes11

Honda Care Sentinel and Sentinel 3/45 plans cover the cost of oil and filter changes
With Honda Express Service™ factory-trained Honda technicians can complete certain maintenance and repairs while you wait12

Road Hazard Tire Protection1,13
Roadside Assistance1,7,8,9
Trip Interruption Benefit1,7
Concierge Services1,7,10
Additional Honda Care Sentinel 3/45 Benefits:
Extensive Component Coverage2
Rental-Car Reimbursement1
Coverage for Sentinel Service and Sentinel 3/45 plans begins on the vehicle's in-service date and at zero miles. Sentinel 3/45 is not available in Florida, Washington and Wyoming.
Protect Your Investment with Honda Care GAP coverage.
If your vehicle is stolen or totaled in an accident, your auto insurance will only cover the current market value of the vehicle. What they pay, and what you owe your lender, may not be the same. In fact, after deductibles, you could owe a substantial amount.
Honda Care Guaranteed Asset Protection (GAP) can cover the difference between the amount you owe your lender and the amount your insurance covers, up to $50,000. You can purchase Honda Care GAP for a one-time fee, or include it in your financing.
Honda Care GAP coverage:
Protects new and used Honda vehicles, Honda Certified Pre-Owned Vehicles and other used non-Honda vehicles
Protects vehicles up to 10 years old
Provides a maximum bene?t of $50,000
Covers your insurance deductible up to $1,000*
* Coverage varies by state. Honda Care GAP is not available in select states (see your local Honda dealer for full details). Insurance deductible coverage may be limited by state. Please refer to your Honda Care GAP Waiver or Policy for details.
1 This document is intended to provide an overview of coverages and benefits. Actual coverages, limitations, and exclusions may vary. See your Service Contract and CCMC Membership Guidelines and/or Emergency Roadside Assistance Guidelines for complete details.
2 Exclusions include, but are not limited to, body parts, tires, maintenance items, glass, upholstery, trim, carpeting and ornamentation. Claims cannot exceed the cash value of the vehicle.
3 If no Honda dealership is available within towing distance, repairs may be made at a Honda Care-authorized service center.
4 Additional surcharge applies for commercial coverage.
5 Transfer fee may apply.
6 Interest-free payment plan provided by Service Payment Plan, Inc.
7 These benefits are provided by Cross Country Motor Club, Inc., except in Florida, where they are provided by American Honda Service Contract Corporation, and in AK, CA, HI, OR, WI and WY, where they are provided by Cross Country Motor Club of California, Inc. In California, Trip Interruption Reimbursement is provided by American Honda Protection Products Corporation.
8 Up to $100 per occurrence; does not include parts.
9 For Model Year 2015 and newer vehicles. Honda Care Family Plan benefits cover up to 5 Honda or Acura passenger vehicles or Honda motorcycles registered to the same household address.
10 Concierge service not available in Florida.
11 Honda Care Sentinel Services and Sentinel 3/45 are not maintenance contracts and do not provide coverage for the required maintenance services (other than oil and filter changes) specified in your owner's manual or by your vehicle's Maintenance Minder.
12 Express Service is only available at participating Honda dealers.
13 Tire protection not available in New York or Florida. Tire wear and off-road usage are not covered. See your Honda Care Sentinel Services or Sentinel 3/45 contract for details.
Coverage for a New Plan begins when the vehicle is originally put into service and at zero miles. Coverage for Pre-Owned and Powertrain Plans begins on the vehicle service contract purchase date and at the mileage on the odometer on that date. The Honda New Vehicle Limited Warranty and Honda Care Vehicle Service Contract cover similar components and provide similar benefits. The Vehicle Service Contract coverage of those components and services begins when the New Vehicle Limited Warranty coverage has expired.
©2015 Honda Financial Services is a DBA of American Honda Finance Corporation and both are service marks of Honda Motor Co., Ltd. Honda, the H-mark symbol, and Honda Care are trademarks of Honda Motor Co., Ltd. Administered by American Honda Finance Corporation